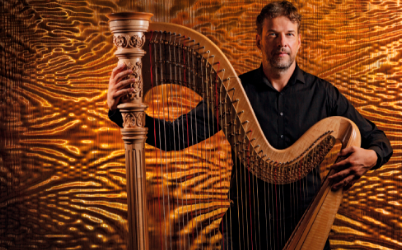 Michal Matejčík | Harpist, born in Žilina, Slovakia, living long term in Austria. Over his more than 20 years long career Michal gained several noticeable achievements, amongst all he was a member of the orchestra of George Michael at his Symphonica Tour (64concerts), or he was the special guest of the II Divo on their Western European tour. In March 2013, he was engaged as a "special guest" of the cult band Depeche Mode at their concert in Vienna.
A spokesperson for George Michael released a statement to the Austrian press quoting: "Michal Matejčík plays with confidence and great musicianship, his distinctive sound and his ability to listen and play with George makes him an integral part of the George Michael Symphonica tour."
He currently lives in Vienna, where he works with the Chamber Opera and Chamber Orchestra, in his homeland he was a principal harpist for certain time in Košice Opera House. In addition to music, Matejčík works for the Swiss foundation "Robert und Lina Thyll-Dürr Stiftung" on the art project "Casa Zia Lina" on the Tuscan island of Elba.
Since 2014, he has been performing in the chamber ensembles harp and saw, harp and oboe, harp and violin and since January 2015 he has been engaged by the Bratislava Tourist Board in their musical presentations. Subsequently, he performed solo and chamber music on other European and American stages – Berlin, Hamburg, Warsaw, New York, Hightstown.
Harpist Michal Matejčík comes from Žilina, where after finishing high school he studied harp, which he graduated in the class of Ľudmila Sawiczová and Zuzana Töröková at the State Conservatory in Bratislava. During his further studies in Vienna at the Universität für Musik und darstellende Kunst, Michal Matejčík received offers as an orchestral player from several orchestras o.i. RSO Wien, Wiener Staatsoper and the Pacific Music Festival Orchestra in Japan, where he was the first to represent Slovakia.
In his recent years he performed as the soloist, and he made his presence attractive by several noticeable collaborations. In 2021 he performed with worldwide renowned tenor Pavol Bršlík and he accompanied Pavol at his concert in Bratislava during the respected Viva Musica Festival. In the summer 2022 played with Wiener Symphoniker at Bregenzer Festspiele. His last musical project was a solo recital of the etudes and metamorphosis works of renowned Philip Glass which was premiered on September 30th in Skalica, Slovakia in collaboration with award winning designer and artist Ašot Haas.
George Michael, Symphonica: The Orchestral Tour (2012)
IL DIVO & Orchestra In Concert, Tour (2012) 
George Michael, Symphonica: The Orchestral Tour (2011)
Solo & Chamber Concerts (selection)
Opening Act for Depeche Mode (2013)
Solo Recital, Sallivan Room (2013)
Duo Recital: Violin and Harp (2013)
Solo Recital, Martkhalle (2013)
Solo Recital, Kunstmuseum (2013)
Solo Recital, Babylon Kino (2013)
"Music for Harp and Choir" harp solo, harp & choir concert (2011)
"Day Without Violence" harp & beatbox performance (2010)
"International Festival of Minorities" Tvila (2010)
"6th International Ecumenical Concert of Sacral Chants" Tvila (2010)
Palais Augarten, solo & chamber concert (2009)
Palais Lobkowitz, chamber concert (2007)
Petrus Church, chamber concert, Trio Recordum (2007)
St. Katharina Church, chamber concert, Trio Recordum (2007)
Börse Palais, chamber concert (2006)
Minority Church, harp & choir concert with "Musica con Grazia" (2006)
"7th International Harp Festival" solo concert (2005)
Slovak Institute, harp solo & chamber concert (2005)
"Pacific Sounding" chamber concert (2004)
"Man and Nature" caste Loosdorf, solo concert (2004)
Ensemble concert with Michael Jarrell´s composition class (2003)
Palais Auersperg, chamber concert (2002)
Ernst Krenek Institut, solo concert (2001)
"European Days in Bratislava" solo concert (2000)
Orchestral & Ensemble Engagements
Austria Vienna Chamber Opera (2007-2010, 2013)
Vienna Chamber Orchestra (2008-2010, 2013)
Tonkünstler Orchestra (2008-2009, 2013)
Vienna State Opera (2008-2011)
Stage Orchestra Of The Vienna State Opera (2008 -2011)
Children Opera, Vienna (2008-2010)
Radio Symphonie Orchestra, Vienna (2007-2010)
Recreation Orchestra Graz (2007-2009)
Kontrapunkte Ensemble (2008-2009)
Instrumentalensemble of Carinthian Summer, Ossiach (2008)
Ensemble XX. Century (2008) Symphony Orchestra Graz (2008)
Festival Orchestra Mörbisch (2007)
Philharmonic Ensemble Orchestra (2006)
Ensemble for New Music (2004)
Stephansdom Orchestra, Vienna (2004)
European Philharmonic Orchestra (2003)
Webern Symphonie Orchestra, Vienna (2001-2005)
Japan Pacific Music Festival Orchestra, Sapporo, Osaka, Tokio (2004)
Czech Rep. Bohuslav Martinů Philharmonic Orchestra, Zlin (2008-2009)
Slovakia Slovak Philharmonic Orchestra, Bratislava (2006-2007, 2012)
Tvila voice, 2 harps, percussions, winds
Trio Recordum fipple flute, harpsichord, harp
Laxenburg (A) Music School Laxenburg (2009 to present)
Vienna (A) private harp lessons: concert harp, single action harp, lever harp private piano lessons
Music School Meidling (2008-2009)
Rajec (SK) "The Rajec Music Spring" (2011)
Music Centre Slovakia Prize for the composition "L. ich T."
Kosice (SK) "Harp Competition of Slovak Conservatories" (1998) 1st prize
2018 – 2019 Franz Schubert Konservatorium, Wien
bakalárske štúdium , odbor – pedagogika harfy
2000-2005 Universität für Musik und darstellende Kunst Wien
magisterské štúdium, odbor – koncertný harfista
1995-2000 Konzervatórium Bratislava, maturita 1999, diplom 2000
1990-1995 Gymnázium sv. Františka, maturita 1995
Sapporo (JP) Xavier de Maistre (2004)
Velenje (SL) Patrizia Tassini (2003)
Vienna (A) Ion Roncea (2002)
Vienna (A) Andreas Ljungar-Chapelon (2001)
Switzerland "Dr. Robert und Lina Thyll-Dürr Stiftung"foundation
Austria "Viktor Bünzl Stiftung" foundation
"Yehudi Menuhin Stiftung: Live Music Now!" foundation