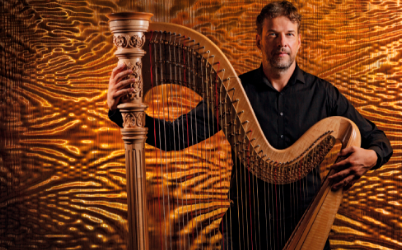 Michal Matejčík | Harpist, born in Žilina, Slovakia, living long term in Austria. Over his more than 20 years long career Michal gained several noticeable achievements, amongst all he was a member of the orchestra of George Michael at his Symphonica Tour (64concerts), or he was the special guest of the II Divo on their Western European tour. In March 2013, he was engaged as a "special guest" of the cult band Depeche Mode at their concert in Vienna.
In his recent years he performed as the soloist, and he made his presence attractive by several noticeable collaborations. In 2021 he performed with worldwide renowned tenor Pavol Breslik and he accompanied Pavol at his concert in Bratislava during the respected Viva Musica Festival. In the summer 2022 played with Wiener Symphoniker at Bregenzer Festspiele. His last musical project was a solo recital of the etudes and metamorphosis works of renowned Philip Glass which was premiered on September 30th in Skalica, Slovakia in collaboration with award winning designer and artist Ašot Haas. From 2023 he performs togehter with actor Marek Majeský in poetry and music evening: "This is my world".
After finishing high school in Žilina, he studied harp in the class of Ľudmila Sawiczová and Zuzana Töröková at the State Conservatory in Bratislava. During his further studies in Vienna at the Universität für Musik und darstellende Kunst, Michal Matejčík received offers as an orchestral player from several orchestras o.i. RSO Wien, Wiener Staatsoper and the Pacific Music Festival Orchestra in Japan, where he was the first to represent Slovakia.
In his homeland he was a principal harpist for certain time in Košice Opera House. In addition to music, Matejčík worked for the Swiss foundation "Robert und Lina Thyll-Dürr Stiftung" on the art project "Casa Zia Lina" on the Tuscan island of Elba.
Since 2014, he has been performing in the chamber ensembles harp and saw, harp and oboe, harp and violin and since January 2015 he has been engaged by the Bratislava Tourist Board in their musical presentations. Subsequently, he performed solo and chamber music on other European and American stages – Berlin, Hamburg, Warsaw, New York, Hightstown.
A spokesperson for George Michael released a statement to the Austrian press quoting: "Michal Matejčík plays with confidence and great musicianship, his distinctive sound and his ability to listen and play with George makes him an integral part of the George Michael Symphonica tour."
Artistic Engagements:
Solo & Chamber Concerts
2023
Bratislava (SK), Moyzesová sieň, Solo Recital
Bratislava (SK), Chorvatské rameno, Solo Recital 
Modra (SK), Evangelical Church, Solo Recital 
Reutte (AT), Die Kellerei, Solo Recital 
Bratislava (SK), Dot Gallery, Solo Recital 
2022
Vienna (AT), Palais Pálffy, Trio Recital: Harp, Flute, Soprano 
Skalica (SK), Jesuit Church, Solo Recital 
Žilina (SK), Synagogue, Solo Recital
Vienna, Muth, Chamber Concert Trumpet & Harp 
Vienna, Österreichisch-slowakischer Kulturverein, Solo Recital
2021
Bratislava (SK) Viva Musica! Festival,  Tenor (Pavol Bršlík) & Harp 
Bratislava, Puchov, Ivanka pri Dunaji, Nove Zámky (SK), Duo Recitals Violin & Harp
2020
Bratislava (SK), Nedbalka, Solo Recital 
Capoliveri (IT), Videostream Solo Recital for Maggyart Capoliveri 
Klatova nova ves (SK), Sadok Kirche, Duo Recital: Harp & Violin
Bratislava (SK), St. Martin Kathedrale, Viva Musica! Festival, Chamber Concert
2019
Bratislava (SK), Kulturak, Solo Recital 
Tomasov (SK), Art Kastiel, Solo Rezital
Wien (AT), Bellart Gallery, Solo Rezital
Castle Mikulov (CZ), Solo Recital 
Cerveny kamen (SK), Rytierska sala, Duo Recital, Harp & Violin
Bratislava (SK), Lampy, Solo Recital 
2018
High Tatras (SK), Tatra Flowers Festival, Chamber Concert Violin & Harp
Castle Bojnice (SK), Trio Recital, Violin, Viola, Harp
Theresienfeld (NÖ), Church, Chamber Concert, Violin & Harp
Trnava (SK), Nadvorie, Solo Recital                        
Presov (SK), PKO, Solo Recital
Zilina (SK), Evangelical Church, Tenor (Pavol Bršlík) & Harp Concert
Langenzerdorf (NÖ), Festsaal, Solo Rezital 
Bratislava (SK), Mirbach Palaise, Chamber Concert, Violin & Harp
Zilina (SK), Rosenfeld Palaise, Chamber Concert, Violin & Harp 
2017
Bad Schönau (NÖ), Solo Recital
Trnava (SK), Jan Palarik Theater, Multimedia concert: Transformations of Harp
High Tatras (SK), Tatra Flowers Festival, Two Solo Recitals
Ljubljana (Si), Mestni Muzej, Duo concert: Harp & Harp (Tina Zerdin)
Hamburg (D), Altonakirche, Solo Recital
Praha (CZ), Hybernie Theater Liederabend with Katarina Knechtova
2016
Vienna (A), Peterskirche, Chamber Concert, Flute (Tunde Jakab) & Harp
Vienna (A), Salvatorsaal,Chamber Concert, Flute (Tunde Jakab)& Harp 
Vienna (A), Erzbischöfliches Palais, Solo Recital
Bratislava, Theater Mala Scena, Solo Recital 
Cerveny Kamen (SK), Duo Concert: Harp & Oboe (Zuzana Grejtakova)
Olecko (PL), Colloseum, Duo Concert: Harp & Saw (Celestine)
Rozynsk (PL), Kosciol pw. Sw. Szczepana, Duo Concert: Harp & Saw (Celestine)
2015
Bratislava (SK),  Nedbalka, Solo Recital
Prešov (SK), Evangelical Collegium, Solo Recital
Vienna (AT), Peterskirche, Duo Recital, Harp & Flute (Tunde Jakab)
Vienna (AT), Salvatorsaal, Duo Recital, Harp & Flute (Tunde Jakab)
Tomašov (SK), Solo Rezital 
Nitra (SK), Synagogue, Duo Recital, Harp & Vocal (Ester Wiesnerová)
Bratislava (SK), KC Dunaj,  Trio ConCert: Harfe, Vocal, (Barbora Drahovská), Piano (Daniel Špiner)
2014
Vienna (AT), Erzbischöfliches Palais, Solo Recital
Bratislava (SK), Theater Malá Scéna, Solo Recital
Červený kameň (SK), Duo Recital, Harp & Oboe (Zuzana Grejtáková)
Olecko (PL),  Colloseum , Duo Concert, Harp & Saw (Jolanta Sosnowska)
Rozynsk (PL), Kosciol pw. Sw. Szczepana, Duo Concert , Harp & Saw (Jolanta Sosnowska)
Bratislava (SK),  Nedbalka, Duo Recital, Harp & Oboe (Zuzana Grejtáková)
2013
Hamburg (D), Markthalle, Solo Recital
Bochum (D), Kunstmuseum, Solo Recital
Berlin (D), Babylon, Solo Recital  
New York (US), Sallivan Room, Solo Recital
Hightstown (US), Duo Recital:  Harp & Violin (Filip Pogady)
Naměšť nad Oslavou (CZ), Premiere own Composition "Das Staunen der Welt" for Soprano (Petra Simkova) & Harp 
Wien (A) Peterskirche: Duo Concert , Harp & Saw (Jolanta Sosnowska)
Bratislava (SK) Christmas Concert for Radio_FM (2012) 
Laxenburg (A) "Musik für Harfe und Chor" Harp Solo, Harp & Chor Concert (2011)    
Martin (SK) "Tag ohne Gewalt" Harp & Beatbox Performance (2010) 
Bratislava (SK) "Internationales Festival der Minderheiten", Tvila (2010) 
Kosice (SK) "VI. International Ecumenical Concert of Sacrel Chants", Tvila (2010) 
Wien (A) Palais Augarten, Solo & Chamber Concertt (2009) 
Wien (A) Palais Lobkowitz, Chamber Concert (2007) 
München (DE) St. Petrus Kirche, Chamber Concert, Trio Recordum (2007) 
Kremnica (SK) St. Katharina Kirche, Chamber Concert, Trio Recordum (2007) 
Wien (A) Börse Palais, Chamber Concert (2006) 
Graz (A) Minoriten Kirche, Harfe & Chor , Concert with  "Musica con Grazia" (2006) 
Gödöllö (H) VII. International Harp Festival, Solo Concert (2005) 
Wien (A) Slowakisches Institut, Solo & Chamber Concert (2005) 
Sapporo (JP) "Pacific Sounding", Chamber Concert (2004) 
Loosdorf (A) "Mensch und Natur", Schloss Loosdorf, Solo & Chamber Concert (2004) 
Wien (A) Project mit composition Students by  Michael Jarrell (2003)
Wien (A) Palais Auersperg, Chamber Concert (2002) 
Wien (A) "Konzert zum 10.Todestag des Komponisten Ernst Krenek", Solo Performance (2001) 
Bratislava (SK) "Europa Tage in Bratislava", Klarisky, Solo Concert (2000) 
Orchestral Europe Tour
2012
George Michael, Symphonica: The Orchestral Tour, 
Il Divo, The Orchestral Tour, 
2011
George Michael, Symphonica: The Orchestral Tour,
Orchestral  Japan Tour
2004
Pacific Music Festival Orchestra (Saporo, Osaka, Tokio)
Slovak and Czech Tour
2016/17
Katarína Knechtová: Prežijú len milenci I a II
2015
Katarína Koščová: Na šnúre
Special Guest
2013
Depeche Mode: Album Launch Event, Museumsquartier, Wien
Depeche Mode, Bratislava, Stadium Pasienky, Support Act with Katarina Knechtova 
Orchestral- & Ensemble Engagements
2021-2022 , Wiener Symphoniker (2.Harp, Substitut)
2008-2010, 2013, 2018, 2020 Wiener KammerOrchester 
2020 Synchron Stage Orchester, Vienna
2015-2016 Slovak Oper Kosice, 1. Harp
2007-2010, 2013 Wiener Kammeroper 
2006-2007, 2013 Slovak Philharmonie (Substitut)
2008-2011 Wiener Staatsoper (Substitut)
2008-2010 Bühnenorchester der Wiener Staatsoper (Substitut)
2008-2010 Kinderoper Wien (Substitut)
2007-2010 Radio-Symphonieorchester Wien (2. Harfe, Substitut)
2007-2009 Großes Symphonisches Orchester "Recreation" Graz
2008-2009 Ensemble Kontrapunkte 
2008-2012 Tonkünstler Orchester Niederösterreich (Substitut, 2. Harfe)
2008 Ensemble XX. Jahrhundert
2008 Instrumentalensemble des Carinthischen Sommers 
2007 Grazer Symphoniker
2007 Festivalorchester Seefestspiele Mörbisch 
2006 Philharmonic Ensemble Orchestra
2004 Ensemble für Neue Musik 
2004 Pacific Music Festival Orchestra, Japan   
2003 European Philharmonic Orchestra 
2002 Stephansdom Orchester Wien 
2001-2005 Webern Symphonie Orchester            
Education
2018 – 2019 Franz Schubert Conservatory, Vienna bachelor's degree, field – harp pedagogy 
2000 – 2005 Universität für Musik und darstellende Kunst Wien master's degree, field – concert harpist 
1995 – 2000 Conservatory Zilina and Bratislava, graduation 1999, diploma 2000 
Master Classes: 
2022 Isabelle Moretti
2022 Tristan Le Govic 
2004 Xavier de Maistre 
2002 Ion Roncea 
2002 Patrizia Tassini 
2001 Andreas Ljungar-Chapelon
Coach
März 2023 Vienna
Mai 2019 Bratislava
Juli 2018 Lilienfeld
Mai 2017 Krumbach
Juli 2016 Fehring
Juli 2015 Fehring
August 2014 Vienna
Teaching
2023 – Staatz, Musicschool
2018 –  Tulln, Musicschool
2016 – 2023 Hollabrunn, Musicschool
2016 – 2021 Laxenburg, Musicschool
2008 – 2011 Laxenburg, Musicschool
Scholarships
2006-2007 "Lina und Robert Thyll-Dürr Foundation" / CH 
2002-2006 Yehudi Menuhin-Foundation  "LIVE MUSIC NOW!" 
2003-2004  "Viktor Bünzl Foundation" / Vienna
2002-2003  "Lina und Robert Thyll-Dürr Foundation" / CH
2001-2002  "Lina und Robert Thyll-Dürr Foundation" / CH
Collaborator
2009 -2017 Project Casa Zia Lina, Isola D´Elba, Italy